Professors
Belgrade Nightlife Academy has a young staff that has an extreme good knowlegde of nightlife-scene of Belgrade. They all have been studying the party's, clubs and festivals for at least 10 years and know what to show. Please don't try to fall in love with them, because they are drinking and partying only on a very professional basis. If you find them lying under the table, rest assured that this is part of their teaching-methods and has nothing to do with being to drunk to walk.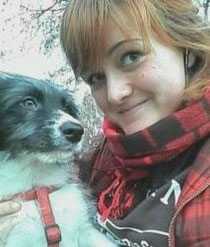 Professor Ana is a 24/7 professor. Very internationally oriented and not only researching Belgrade's nightlife, but the nightlife in many countries and cities in Europe! She is known to be very strict, which means that if she wants you to dance on the table, you dance on the table! From traditional dances to alternative clubs, she knows what to do, how to do it and where to do it. With Ana as a teacher you will pass your Belgrade Nightlife exam easily!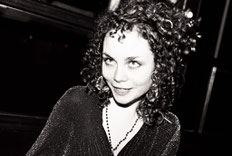 Professor Marija is a non-stop professor. Once she starts, she doesn't stop! Be prepared if you are going to follow her class. She will drag you through Belgrade and tell so much interesting things, only the very best students can remember everything. Her teaching methods are Fun, Fun and Fun, with a bit of dancing on the side. She is so underground that she hardly sees daylight....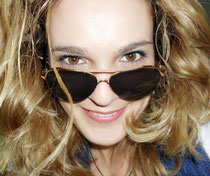 Professor Sasha is known to be the inspiration of Michael Jackson's hit 'Don't stop 'til you get enough'. Going out in Belgrade with this international lady of mystery offers you a 100% party-guaranty. She might look dangerous. And actually she is. If you fail her class, you fail hard. Think you've seen it all? Think again!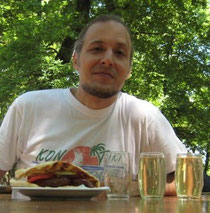 Professor Vlada (Vladimir for his students) is Belgrade's kafana specialist. With a record of visits to 97 Belgrade kafana's he's the undisputed king of the kafana. Besides studying the art of rakia-drinking, he is also an expert on Serbian food. No matter how good-looking you are, it's the inside that counts during his class. Your liver, your stomach and your brain will all be served well. This walking-talking Wikipedia will make sure you feel like a Belgradian after only one night in Belgrade!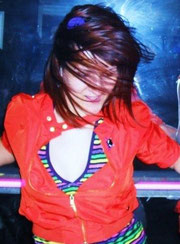 Milica means 'crazy party girl'  in Serbian language. And if it does not, it should! Because Milica is one of the reasons that Belgrade got its status as number 1 party-city. If nightlife would be a race-car, Milica would be the engine. And the driver! No stopping to this from dusk till dawn lady. Get's you into every bar and club and only let's you leave when she thinks you learned enough. Good luck, you students!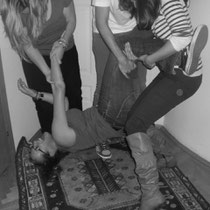 Professor Ivana turns everything upside down, even herself if necessary. Down is up and up is down, and the glasses always become empty in no time when she's around. If you don't like dancing you better start being afraid: if professor Ivana sees a dance-floor, no one is safe! Her classes are meant only for the very best students out there. Forget about your fears and let Ivana teach you!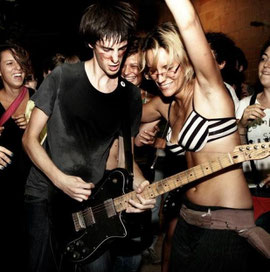 Meet Boris, frontman of probably the best band in Belgrade at the moment (and in the future)! When he's not crashing his guitar, destroying his voice or fighting off groupies he's ready to show you what the underground scene of Belgrade is all about. From the darkest dungeons to the highest rooftops, Boris will get you lost for sure! His favourite spot is his rehearsal-studio, which is more rock 'n roll than anything you've ever seen.