Belgrade Underground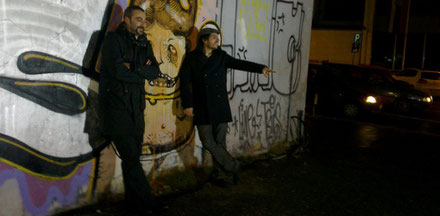 What is 'underground'? Can you be 'underground' when standing on the roof of an old factory-building? Does underground mean floating on a piece of grass and eating a slice of delicious pizza? Is going on a underground tour 'underground'? Who am I? Who are you? Who is that guy on my left? All very essentialist and existential questions which we will try to answer while drinking, eating and travelling through Belgrade visiting some totally weird places.
You will also get answers to some other very important questions: Where and when are the best concerts in Belgrade, how do I find some good grass in Belgrade, where can I find the best street-art, where are the coolest and cheapest bars in Belgrade?
The quest for answers starts every Friday at the meeting-point where you meet with an artist, musician or just a very cool person that is your guide for the night. You will pass through parks where the punks of Belgrade meet to drink and smoke before going to a concert or club. After a bus-ride you'll tress-pass through an industrial area to find a very cool boat on the river Sava. Ever heard of Emir Kusturica ? You will float on the piece of land of the famous closing-scene of his most famous movie 'Underground'.
Get  a beer and rakia before we head for the building of the former National Printing Institution of Yugoslavia 'Bigz'. This 25.000 m2 squat houses a jazz-club, a circus, ateliers, concert-venues and is one big piece of underground art in itself. We'll take about an hour to see parts of it, but you'll have to come back by yourself to experience all of it!
Time to get back to the centre and discover some bars on places you will never expect one; hidden behind an old shopping centre or in an apartment-building. However, if something cool like an interesting event is happening, we'll skip the bars to visit it. It makes absolutely no sense to follow a strict tour if somewhere else the real thing is happening. And because you're in Belgrade, you never know what to expect. Some drinks will help you get rid of any doubts about not knowing where you will be next.
Nobody is ever sure where the tour ends. It all depends where the night will bring you, where the coolest gigs or parties are and how much energy you have left to go deeper underground....
Time: Thursday, Friday and Saturday 21.00  – 01.00
Including: Tickets for public transport
Price: € 10  (min 3 persons)
Reservation Only! Please reserve your place on the tour here. The tours will start with a minimum of 3 persons per tour.