Blog
By professor Ana Novakovic
You had a great time on the Belgrade Nightlife Academy? Great! You met somebody special, and you hit it off?  Perfect, you learned all you need to know about Belgrade Nightlife on the academy! But there is one more subject you need to learn about... A Belgrade first date! No worries, professor Ana provides you with extra study material!
A typical Belgrade date starts with meeting at the Republic Square 'by the horse', then goes through the main pedestrian zone, and ends up at Belgrade fortress. Although this timeless classic, the little black dress of all Belgrade dates, is always a pleasant walk, if you are dating Belgrader it is most likely they have done the route already with someone, or many others.  So,  here's some alternative routes you can try to WOW them, and have an amazing Belgrade first date:
1)      Lower town Belgrade fortress and 25th May riverside 
Start your date on the fortress and then go down to lower city and enjoy the view of the fort from there, than  bypass Nebojsha tower. Walk along the river and go for a cocktail, hot chocolate or even breakfast in Viva floating bar. Sunsets from the top of the bar are amazing.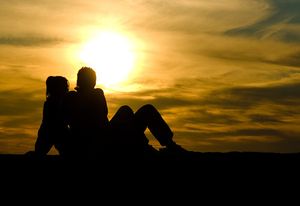 2)      Big war island 
The island between the Sava and the Danube rivers, not very often visited but full with beautiful nature. In summer time you can get to it over an improvised bridge from Zemun. Perfect for a picnic and a stroll through the wilderness. The bridge closes at 8p.m. so if you are late, your date might turn into a Tarzan & Jane experience.
3)      Zemun and Gardosh 
Romantic stroll through the old part of Zemun where everything is like a movie set. For a sophisticated date, drink in Sharan restaurant, for a buzzing evening go out in some of the bars with local music. Walk up to Millennium tower, and enjoy an amazing view of old Belgrade.
4)      Confluence  (USCE)
They say this place is magical because particles of water from a huge area are all joining each other here in the mighty merging of Danube and Sava!  It's a birdwatchers area where you can stroll along the river side and have a drink with a view of Belgrade fortress.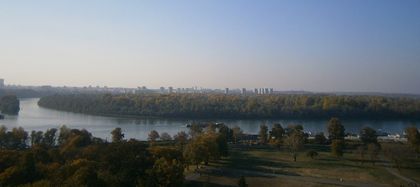 Place with both glorious and tragically history. If you want to impress your date learn all about this area and its history by heart. Have a blueberry beer in Turtle pub, or vine on Cobalt Street in a bar, and you will feel like in a 19 century love story!
6)      Havana club
 Dancing date. Even if you are not a latin lover, this place will make you sway!!! Hot date guarantied.
7)      Blow up bar
Afternoons and evenings. Sexy atmosphere, candles, music, projectors, piano, low light, chandeliers  and Rakia cocktails will set the mood. Kinky feeling. Like forbidden romance, with a secret lover…
8)      Corner of Visnjiceva and Simina streets on Dorcol, Vine tasting
For a sophisticated date. Let the food and vine seduce your senses.
9)      Nargila bar Kandahar, Strahinjica Bana street
Cozy atmosphere, scent of orient, smoke coming from the water-pipes covering all the secrets. Perfect place for a chillexing date.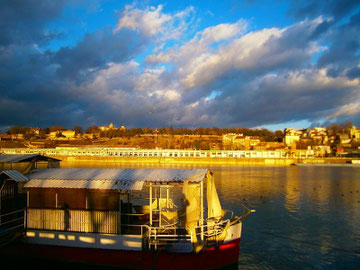 10)   Botanical garden
Nice and relaxing stroll for those who are more shy. A get-to-know-each-other first date.
11)   Ada ciganlija
Whole day date. An active date- water skiing, bungee jumping, adventure park, swimming, biking, jogging, or just relaxing by the lake in a swing, a nice night walk or a romantic picnic with self-made barbecue. In winter time visit the bars with fireplaces and check the amazing view of the lake.
12)   Roof top of Bigz
To be seen, to be understood. Excellent combination of the best jazz and best view in Belgrade. Sorry, I mean Europe.
13)   Brodic
 Pizza and board games in a cosy boat on Sava river. Both relaxed and intimate it is a special place to get to know someone better.
14)   Club of World Travelers 
A place with an amazing story and an interesting interior. The small tables allow you lot of privacy in this buzzing place.
15)   Dvoristance bar
Near Brankovs bridge, alternative scene, a bit hippie and very relaxed, the trains and time will fly by you as you watch the sunset and river.
16)   Old brewery, Terazije
Great rock bands performing every evening. You can dance like crazy or just have your romantic evening in some corner of this great bar that looks like a big Bierstube.
17)   Bridge across Ada
A great walk into an amazing evening over this huge, brand new bridge!
If any of these dates grew into something special, or if you have suggestions to go to on a first date, please feel free to share!