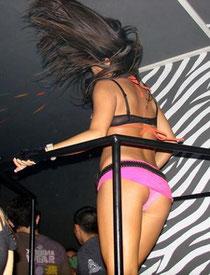 Professor Ana Novakovic shares her dress-up-tips!
It is hard… With the ever-changing nightlife of Belgrade you never know where you will end up, and if you're going back home when all other people go to their jobs at 8 a.m. you often wish you had a little less make up on… J In many clubs you have to dress to impress. All the girls are in high heels, and look like they just stepped from a magazine cover (sometimes even from the cover of Playboy). It goes for Strahinjica Bana street, or so called Silicon Valley as well. In most clubs in the city center you can basically dress according to your mood, from sneakers all the way to catwalk style and have the same amount of fun. That is the magic of these places! In such places however, males in normal shoes are looked at funny, because they usually all where sneakers. In places playing Serbian turbo-folk music which are near hotel Yugoslavia, you might get denied if you are not dressed up enough , but everywhere else it should be fine. People say that in general Belgraders are very dressed up even during the day. In the night all the masks fall down and you can be whoever you want to be, the important thing is to have fun!
Few more rules…. Dress properly so you can:
dance on the table and not have to think about the length of your skirt
kneel on the floor and not get your trousers dirty while girls are shaking it in traditional rhythms
dance national dances like crazy and not get sweaty
go from club to club in any weather condition
dance all night, without your shoes bothering you
jump around and your top does not fall down
spill red wine and rakia all over you and still don't care
þ  d
So you see – It might be true that the suit makes the man, but the comfortable suit makes the great night out in Belgrade! In the end, in Belgrade you can always run wild, but I do not recommend to run naked! So think twice before going out, you only have couple of nights in Belgrade!