Welcome to the Belgrade Nightlife Academy!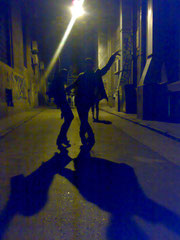 Showing you Belgrade's nightlife at its best!
Save money while going out!
Coolest guides to show you the way!
From traditional dances to the best beats, from high-heeled ladies to long-haired rockers: Belgrade has it all! To help you learn all about Belgrade's dazzling nightlife the Belgrade Nightlife Academy is here.
You will be going on a night never to forget, but most likely will have a hard time remembering the next day!
The Academy is open to everyone. You can learn about the diversity of Belgrade's bars, go underground to places you will never discover by yourself or visit the typical Belgrade kafana's where only real Belgradians come. For more info about each of the tours, please check our curriculum.
The schedule for 2013 can be found below. You can join any class on Thursday, Friday or Saturday if you reserve here at least 24 hours before.
NB: Tours only will take place when there are 3 students or more! 
Class                    

Reservation needed
Days
Time              

Price
Spirit of Belgrade
YES

Thursday

Friday

Saturday

21.00 - 00.00
€ 10
Belgrade Underground
YES

Thursday

Friday

Saturday

21.00 - 01.00
€ 10